NAKED CHILDHOOD
französisch
80 Min.
englische Untertitel
621984 UK
nicht mehr im Handel
Originaltitel:
L'Enfance Nue
Regie:
Maurice Pialat
Musik:
Darsteller:
Michael Terrazon, Raoul Billerey, Maurice Coussonneau, Pierrette Deplanque, Linda Gutemberg, Marie Marc, Henri Puff
Frankreich 1968
NAKED CHILDHOOD - L'Enfance Nue
One of the earth-shaking feature debuts in the history of cinema, Maurice Pialat's L'Enfance-nue (Naked-Childhood) provides a perspective on growing-up that rejects both sentimentality and modish cynicism. Its unflinching, but also warmly accommodating, outlook on childhood attracted François Truffaut to take on the role as co-producer of Pialat's film - which, ironically, exists as much as a response to Truffaut's own debut The 400 Blows as that film was to the 'cinema of childhood' that came before the New Wave.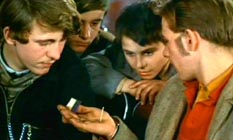 First-time actor Michel Tarrazon plays the young François, a provincial orphan whose destructive behaviour precipitates his relocation from the home of a long-term foster family to the care of a benevolent elderly couple. In the course of this transition, Pialat's film presents the turbulence of François's unmoored existence, and his explosive reactions to the contradictory emotions it engenders. This is the naked portrait of a soul's - and an entire society's - dysfunction, before the moment of reconciliation.
L'Enfance-nue represents the ideal introduction to the films of Maurice Pialat - an artist whose work resides alongside that of Jean Eustache and Philippe Garrel at the summit of the post-New Wave French cinema. One discovers in his pictures a raw and complicated emotional core which, as in the films of John Cassavetes, reveals upon closer examination a remarkably rigorous visual aesthetic, and a facility of direction which lifts both seasoned actors and debutante amateurs to the level of greatness. Coupled here with Pialat's poetic and brilliant early short L'Amour existe (Love Exists, 1960), L'Enfance-nue is the first masterpiece of an artist whose work has had an incalculable influence on contemporary directors as diverse as Bruno Dumont, Olivier Assayas, Michael Haneke, and the Dardenne brothers, among others - and whose 2003 passing led Gilles Jacob, president of the Festival de Cannes, to declare: "Pialat is dead and we are all orphaned. French cinema is orphaned." (Covertext)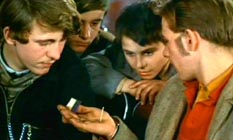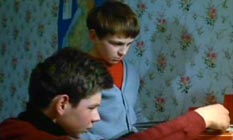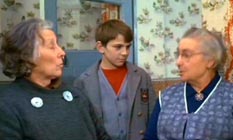 ---
621984 UK
Tonspur:
Französisch
Untertitel:
E
Länge:
80 Min.
Bild:
16:9 Widescreen 1:1.66
Extras:
Dokumentation (50 Min.); Interview mit Michel Terrazon von 2005; Interview mit Maurice Pialat von 1973 (32 Min.); Booklet mit Essay, u. a.
---
© 2008 by TAMINGO Media Publishing